Love Your Breasts, Inc is an organization dedicated to educating and heighten awareness of breast cancer and other cancers in our communities with emphasis on minorities. To provide basic health information, overall wellness tips and support services through monthly cancer support groups, Look Good Feel Better programs, monthly newsletters and Facebook health tips Monday-Friday.


---


Angela Darling M.S., RN
Founder and Executive Director of Love Your Breast, Inc.

Angela Darling is a registered nurse who worked in the hospital setting as a nurse manager/supervisor for 29 years from June 1970-June 1999. Since 2000 Angela has been utilizing her nursing knowledge and capabilities in the community. Angela was diagnosed in June 1999 with early stage 2 breast cancer. Through God's guidance, Angela evolved her personal breast cancer battle into a positive mission of survivorship. She is an advocate and humanitarian who continues to educate the community with ongoing outreach to inspire women and men. Her God guided spirit advised her to initiate a non-profit organization entitled "Love Your Breasts Inc." A breast cancer diagnosis can be daunting for it can affect body image. God gave this special name to Angela for he wants us to love ourselves. She launched her first newsletter in October 2000 which is now online monthly. It is also distributed via snail mail to members and individuals with no e-mail address. It is distributed via liaisons located in Florida, Atlanta, Los Angeles, Philadelphia, Phoenix Arizona, North Carolina, and Jamaica West Indies to name a few. In addition, distribution is also done in NY state boroughs.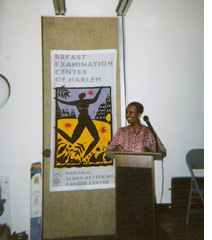 Angela is the Founder and Executive Director of Love Your Breasts, Inc. (LYBI) which was incorporated in 2002. LYBI is a tax-exempt nonprofit organization 501(c)(3). Presently, LYBI facilitates 3 free cancer support groups at the following locations: 1) 4035 White Plains Road Bronx, NY 10466 at the North Bronx Center every 2nd Saturday 4-6pm 1st floor. 2) Lincoln Medical Center 234 East 149th Street, Bronx, NY 10451 Conference Room 1st Floor 11am-1pm. 3) St. Barnabas Hospital 4422 3rd Avenue, Bronx, NY 10457 Conference Room 165 1-2:30pm Look Good Feel Better programs are in partnership with the American Cancer Society. LYBI partners with Project Renewal & ladies are referred for free or low-cost mammograms. You can book Angela for health fairs, wellness seminars, guest speaker presentations and alternative therapy consultations. Angela Darling is recognized for her expertise in critical educational facts regarding breast health, overall wellness, and health prevention presentations. Angela is no stranger to television due to appearances on Bronx Net Cablevision Channel 68- in October of 2002, WPIX Channel 9- in June of 2003, News 12 the Bronx- in December of 2003, and NYI- in February of 2004. She is also no stranger to radio broadcasts due to her interviews on 93.5 FM in April of 2004 and 98.7 Kiss FM Bad Boy Michael Baisden Show in August of 2004. Angela earned her AAS- Associates Degree in nursing from Queensboro Community College in 1970. She went on years later to earn her honorary Bachelors of Science degree with specialization in community health and gerontology, Magna Cum Laude in 1981. In 1997 Angela earned her Masters of Science degree in hospital administration. She is a member of the National Council of Negro Women North Bronx Section and the International Library of Poets. Three of her poems have been published in the U.S. Angela was nominated for inclusion in the International Who's Who in poetry publication in September of 2004. She has been recognized in the Strathmore's who's who 2004-2005 edition for demonstrating leadership and business achievement. As of 2021 Love Your Breasts Inc is a multiple award-winning community service organization. Myriads of awards have been received from community organizations and churches.